In a recent survey done by Search Engine Journal, 40% of the participants hold the search box to be more important than anything else in their virtual working environment.
The difficulty of accessing information throughout an organization has caused management to become accustomed to poor search results and to devote more resources to locating information more quickly. But as we grow and work online, locating relevant information shouldn't require a significant amount of time and effort. That is why it's essential to help the user find the right information as effectively as possible.
According to IDC, 61% of knowledge workers use four or more systems to gather the information they need to execute their tasks on a daily basis. Nearly one-fifth (14%) rely on 11 or more systems. A unified search experience brings all accessible information together in one place, eliminating the need to switch between separate systems and allowing employees to find documents, no matter where they are kept.
The bottom line, we shouldn't care where our data is stored as long as it's safe, compliant, and accessible from anywhere at any time.
Why use the Quick Search feature daily?
Having a good quick search tool has multiple advantages, among the most outstanding ones are:
It helps you

get what you need FASTER.

Allows you to keep the flow while something is needed, a.k.a.

Multitasking.

And the platform learns fast, so

what you use the most is always the first option

.
How to use Quick Search on Rambox?
First, Quick search allows you to jump between applications. It can be a chat in Slack, an email, or finish editing a document. Quick search helps you find any file or conversation you may need.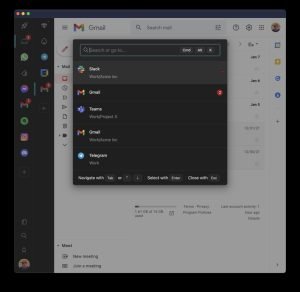 The productivity tip is that you can use the quick search without touching the mouse. Just use this easy shortcut: Alt + Shift + K on Windows and Linux, and Cmd + Alt + K for Mac.  If the app section or document that you are looking for is not on the list, just start typing some letters of its name and new suggestions will appear.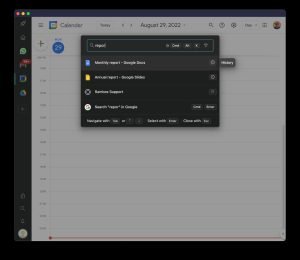 While you are inside an app and receive a notification from another app, you can quickly switch using the shortcut and then hit ENTER since the app that appears on top will always be the last one that receives a notification.
Rambox learns with you, so when you look at the Quick search, it will show you first the apps with the most recent notifications, then the ones with badges (it will not include the one that is active), and also you could use tab or Up/Down keys to select what you are looking for and press enter. 
And that is all! So simple, so fast. 
Now that you know how Rambox Quick Search can help you improve your productivity, download Rambox, configure it to your liking, and enjoy all its advantages as soon as possible.
Any questions about the features of Rambox? Do not hesitate to contact us!