Welcome to the celebration of Rambox's 7th anniversary! This time, we're going to share with you a little of our history and our journey of productivity through these years!

We are very proud of Rambox, our innovative application designed to streamline and simplify digital life, which has successfully enhanced productivity and organization for thousands of individuals and teams worldwide. 
That's why we think that our anniversary is the perfect occasion to share the beginnings and the path of Rambox, so that all our users can learn a little more about us and how it all began. In this post, we will delve into the exciting history of Rambox, tracing its roots and exploring the remarkable development that has made it what it is today.
As we mark another year of growth and success, it's important to remember this voyage through time, starting from the inception of Rambox and progressing through its transformative evolution.
Rambox through time
Rambox's success arises mainly because it emerges directly from the personal needs of Rambox's founder, Ramiro Saenz, which turned out to be shared by many other professionals around the globe. As he was tasked with developing websites and intranet systems for several clients, he usually found himself dealing with a chaotic mess of open tabs in the browser. That's why, he decided to get down to work and develop a solution, a solution to unify and organize all those tabs and improve efficiency in his career and that's how Rambox was born. 
Stage 2016-2018
On May 6th, 2016, Rambox saw daylight for the first time, a software designed to streamline work and increase people's productivity. Moreover, for the lead developer, Ramiro, it was a perfect opportunity to explore new programming languages such as Node JS and Electron.
The first version of Rambox used Ext JS, a language in which the lead developer was a true expert, being an instructor and even giving courses of this language internationally. After a period of learning and continuous improvement, the first open-source version of Rambox was shared on GitHub and ProductHunt. Gladly, the public response was incredible, and thanks to the excellent reception and donations received, the project grew daily.
Stage 2018-2022
Gradually, after two years of adding new features to Rambox, the Pro version was released in 2018. This new version included technologies such as VueJS and was offered under a paid subscription model. Although users received the Pro version well, some were reluctant to let Rambox stop being open-source and free. But the team was adamant that this was the right path, and it would allow Rambox to grow.
Incorporating the paid Pro platform was a necessary leap to continue developing the project and make it viable to meet the demands of users and to continue improving the app, making it more reliable and secure, as well as providing new functionalities. However, both versions, Rambox CE and Rambox Pro continued to be maintained. 
In 2019 as the project grew, it needed more work and support to keep the improvements for Rambox users, and the team started to grow. Thus, in early 2021, the idea arose to rebuild Rambox to unify both versions, mainly because it was a hard task to maintain and keep the two Rambox versions up-to-date, both CE and Pro, which were two separate apps. So, it was decided to create a single software that included both the free and the paid plan and to develop a brand new Rambox, fully documented, using state-of-the-art technologies and testing processes.
Stage 2022-Present
The development and improvement process lasted almost a year of hard work, and finally, on January 16th, 2022, the new version of Rambox, which unified CE and Pro versions, was publicly launched, merging under the name of "Rambox". Gladly, both the revamped platform and the redesign received an excellent reception from users. Since then, Rambox has continued to grow and implement new functionalities and applications to offer an ever-better product.
Rambox redesign
The redesign of Rambox was an essential milestone in the platform's evolution. Aware of the need to adapt to changing user demands and deliver an even more seamless and engaging experience, the Rambox team undertook an exciting transformation process in 2021. By incorporating the latest technologies and focusing on usability and design, they succeeded in giving Rambox a new look and enhanced functionalities that captivated the user community.
Logo
In its early days, the Rambox logo represented a gorilla. After the decision to do a complete rebranding, the Rambox logo changed to represent an octopus.
The choice of this animal is not a mere coincidence, since Rambox wanted to visually represent the multitasking capabilities of the application and the possibility of managing as many applications as our users need. 

Corporate Mascot
Ramby, Rambox's corporate mascot, was created with the intention of interacting with our users in a more friendly and approachable way.
Rambox milestones and figures
Rambox has experienced impressive growth since its launch. The Rambox CE version started as a small Open-Source project; but today, Rambox has more than 120,000 monthly users, with almost 800,000 applications executed and more than 2 million daily notifications through these applications, becoming an indispensable tool to manage multiple applications efficiently.
Initially, the Community Edition started in 2016 with support for 17 apps, and this number reached over 100 over its lifespan. With the launch of Rambox Pro in 2018, the number skyrocketed to almost 300 apps, and it currently supports over 700 preconfigured apps. It's worth mentioning that if your app it's not among these, in Rambox, you can always configure it manually or reach the support team, so we can add it.
All of these numbers demonstrate Rambox's commitment to offering a wide variety of options to meet the needs of its users.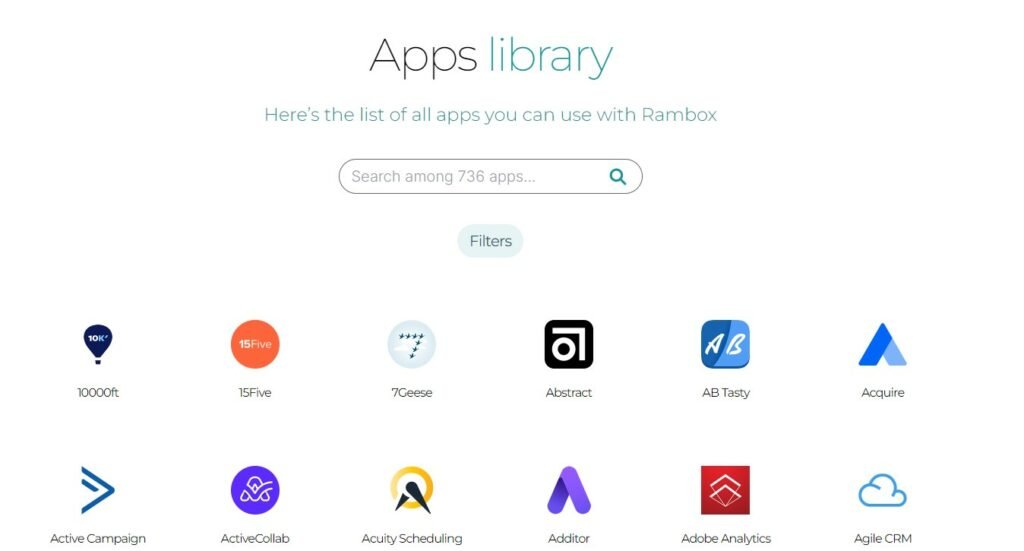 Towards new horizons with Rambox: The story continues!
Rambox's journey has been fascinating and successful (thanks to you!). What started as a unique solution for organizing open tabs in the browser has grown into a powerful tool that thousands of monthly users use. Over the years, Rambox has experienced exponential growth in functionalities, stability, security, and pre-defined supported applications.
The redesign of Rambox in 2022 was a significant milestone that allowed the free and Pro versions to be unified into a single software, offering an improved and more intuitive experience. By incorporating the latest technologies and focusing on usability and design, Rambox has been able to captivate the user community and continue to evolve.
We are proud of our history and trajectory, but above all, we want to thank our users for their trust and support throughout these seven years. Your participation has made Rambox a successful tool and leader in its field. We will continue to work hard to offer new features and applications, and together we will build a future of greater productivity. 
Thank you for being part of our journey and for joining us on this exciting path!