Today, we live in a digital world where applications have become indispensable in our personal and professional lives. However, with the rise of online tools and services, having multiple applications open simultaneously has become increasingly common, which can lead to confusion and distractions in our workflow.
Fortunately, there is a solution to this problem: Rambox Workspaces. This innovative Rambox feature has become the ultimate option to organize your applications efficiently and productively.
Problems of having multiple applications open
When we use multiple applications in our daily routine, we face several challenges that can affect our productivity and efficiency, such as:
Clutter and difficulty finding information

: with each application open in a different window, it can be complicated to remember where the information we need is located. Moving from one window to another in search of relevant data can take time and distract us from our primary tasks.

Constant interruptions

: Pop-up notifications from different applications can be highly distracting. Whenever we receive a message, email, or social media update, our focus is interrupted, impairing our concentration and workflow.

Excessive consumption of system resources

: Opening multiple applications simultaneously can make our system slow and unresponsive. Each application requires resources, such as memory and processing power, which can slow down other tasks and negatively affect our efficiency.

Difficulty switching between accounts and profiles

: If we use several accounts in different applications, such as emails or social networks, switching from one account to another quickly and easily can be complicated. This can lead to confusion and mistakes when interacting with different profiles.
What is Rambox Workspaces?
Workspaces are a powerful tool designed to help you efficiently organize and manage all your applications in one place. With Rambox, you can easily access all your applications without opening multiple windows or tabs in your browser.
The three key features of Rambox Workspaces are as follows:
Organization of applications in workspaces
Within Rambox Workspaces, one of the most outstanding features is the possibility to flexibly organize your applications in workspaces . Rambox has a list of more than 700 default applications to add to your taskbar. Moreover, if the application you are looking for is unavailable, you can always configure it manually.  
With Rambox Workspaces, you can create as many workspaces as you need, allowing you to group your applications according to different categories, projects, or specific contexts. For example, you could have one workspace dedicated to work and another for your personal applications.
Creating workspaces within other workspaces is another powerful feature of Rambox. This works like folders in your workspace, allowing you to organize your applications at deeper levels. For example, within your "work" workspace, you could create sub-workspaces for different projects, specific departments, or classify your applications by categories (time management applications, productivity applications, collaborative applications, etc.).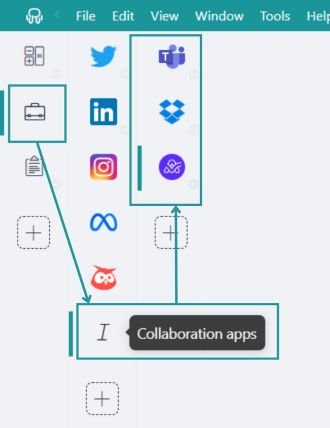 This flexibility allows you to adapt the organization of your apps according to your individual needs. You can customize each workspace with the proper set of applications for that particular context. You can also sort and structure your workspaces to your liking, ordering your applications and facilitating access to the relevant tools at all times. Go to the workspace you want to sort and drag the applications up or down, depending on the order.
Customization of each workspace
With Rambox Workspaces, you can customize the appearance and configuration of each workspace according to your preferences. You can choose an icon or image for your workspaces and set default times when you want to receive notifications and sounds from their applications with the "Work hours" feature.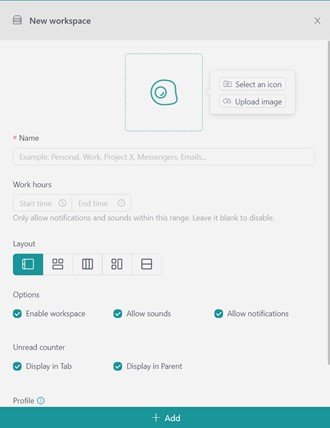 You can also adjust the arrangement of applications in different layouts, allowing you to check several applications at a glance and tailor this experience to your needs.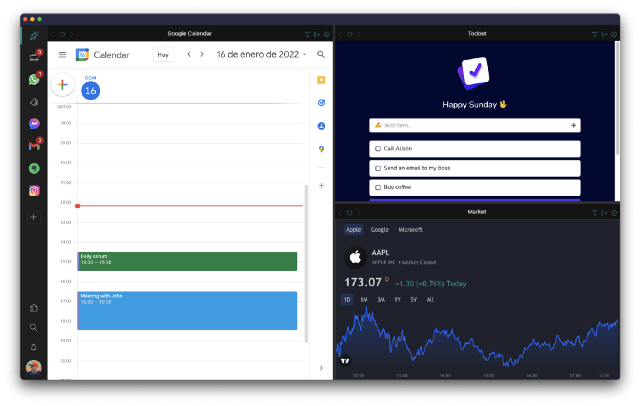 Session management and Profiles
Rambox offers session and profile management to eliminate the need for constant logging in and out of different accounts. With Rambox, you can create multiple workspaces with multiple login credentials, allowing you to access various email addresses and services within one platform. For instance, you can set up a workspace with all your personal applications using your email credentials, and another workspace using your work credentials.
With Rambox's session-sharing feature, you can log in once and access multiple accounts from the same service. Rambox provides three main profiles: "Primary", the default profile; "Inherit from Workspace", which applies only to nested items; and "Private", which is an isolated session. You can add more profiles by clicking on the plus sign.
By creating a workspace-specific profile, you can log in to Gmail with your work credentials and assign that profile to other Google applications within the same workspace. You can also set up a profile scheme for all applications within a personal space, or use a specific profile or private session for each nested application. This feature makes managing multiple accounts more efficient and straightforward.
Use cases and benefits:
Now that you know why Rambox Workspaces are the ultimate app organization tool, in this section, we will explore how Rambox Workspaces solves specific problems for different professional groups and provides them with significant benefits in the way they work.
Simplifying work for development teams
Development teams face unique challenges when working on complex projects involving different tools and services. Coordinating and managing all these applications can be complicated and affect team efficiency.
With Rambox Workspaces, you can create a dedicated workspace to centralize all the applications used in the software development process, version control systems, project management tools, and communication. For example, a web developer can create a workspace called "Web Development" and include applications such as Visual Studio Code, Git, Jira, and Slack. This allows you to quickly access these tools from one place without switching between different applications and windows.
Rambox Workspaces also allows you to receive notifications and alerts from all your applications in one place, which helps you stay on top of essential changes in real time without constant interruptions. If you utilize, for example, bug-tracking tools and continuous integration systems, you can receive instant notifications about new bugs or errors in your projects, allowing you to act quickly and resolve them efficiently.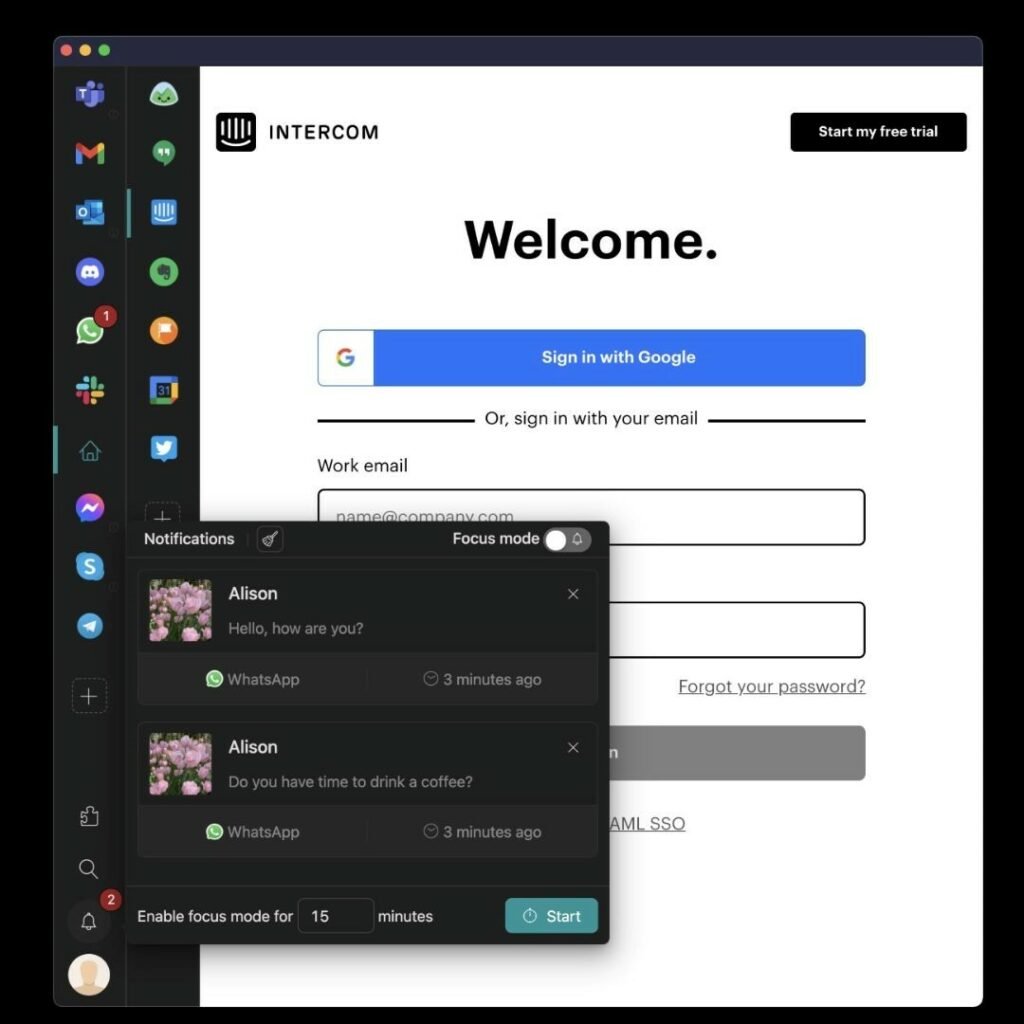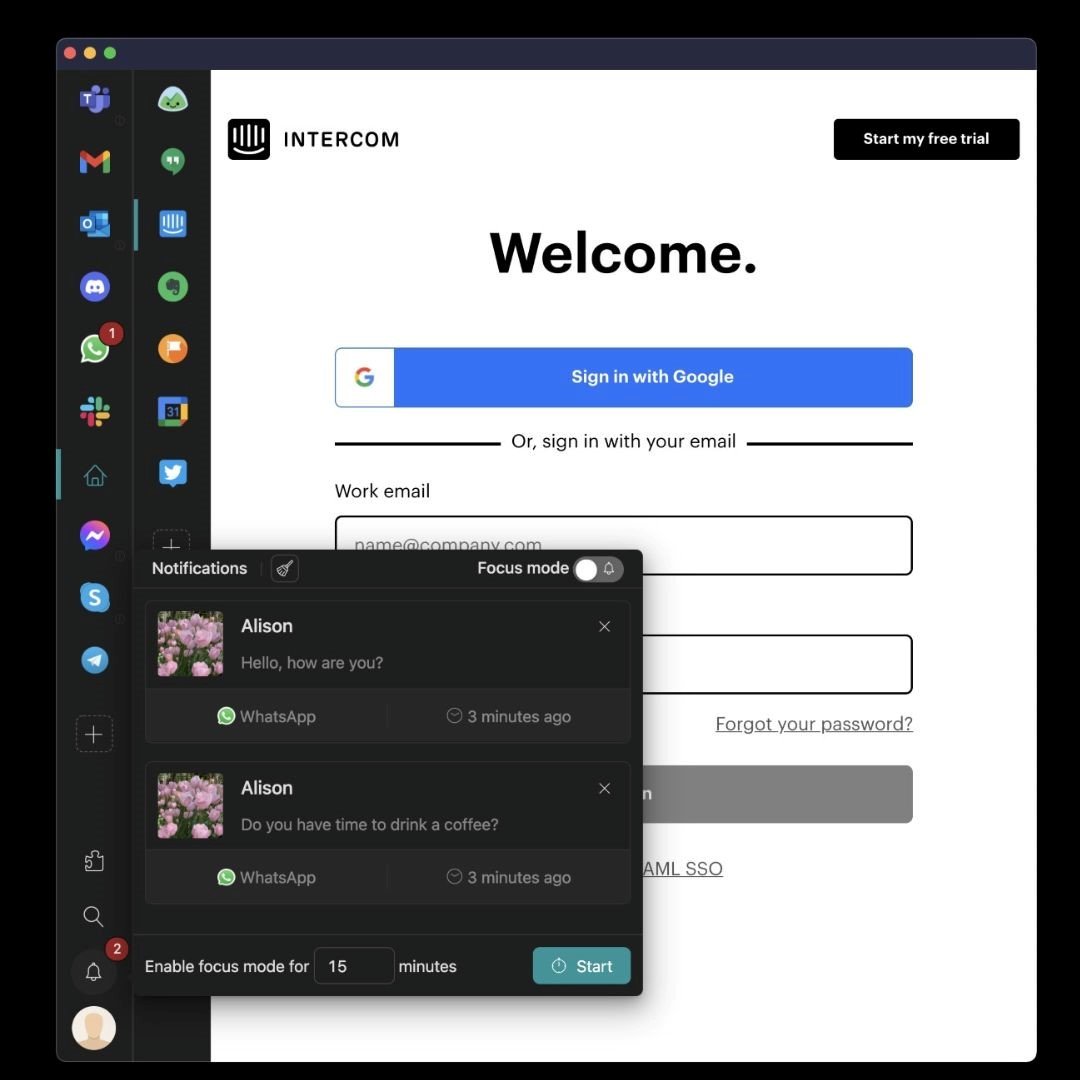 Efficiency for business and management professionals:
Business and management professionals, such as executives, managers, and analysts, handle multiple administration, communication, and data analysis applications. Having all these applications in one place allows you to access them quickly and conveniently. In addition, the ability to customize each workspace enables you to adapt its configuration according to your specific preferences and needs. 
For example, if you are responsible for different projects, you can create a workspace for each project and add the relevant applications. You can have multiple sub-workspaces for "project A", including task management tools, team communication, and project-specific applications. Similarly, you can have other sub-workspaces for "project B", with its applications and necessary tools.
With Rambox Workspaces, marketing and social media professionals can increase their productivity by organizing all their applications in one place. You can create a dedicated workspace for your marketing activities, or one workspace for each client, including applications such as Hootsuite, Google Analytics, Canva, and Facebook Ads. 
Suppose you are running a social media marketing campaign for a specific client. In that case, you can create a specific workspace to monitor your client's campaign and add all related applications, such as social media scheduling tools, analytics applications and tracking platforms. Configuring these workspaces in horizontal and vertical layouts will allow you to see the results of your campaign at a glance, saving you time tracking and composing reports.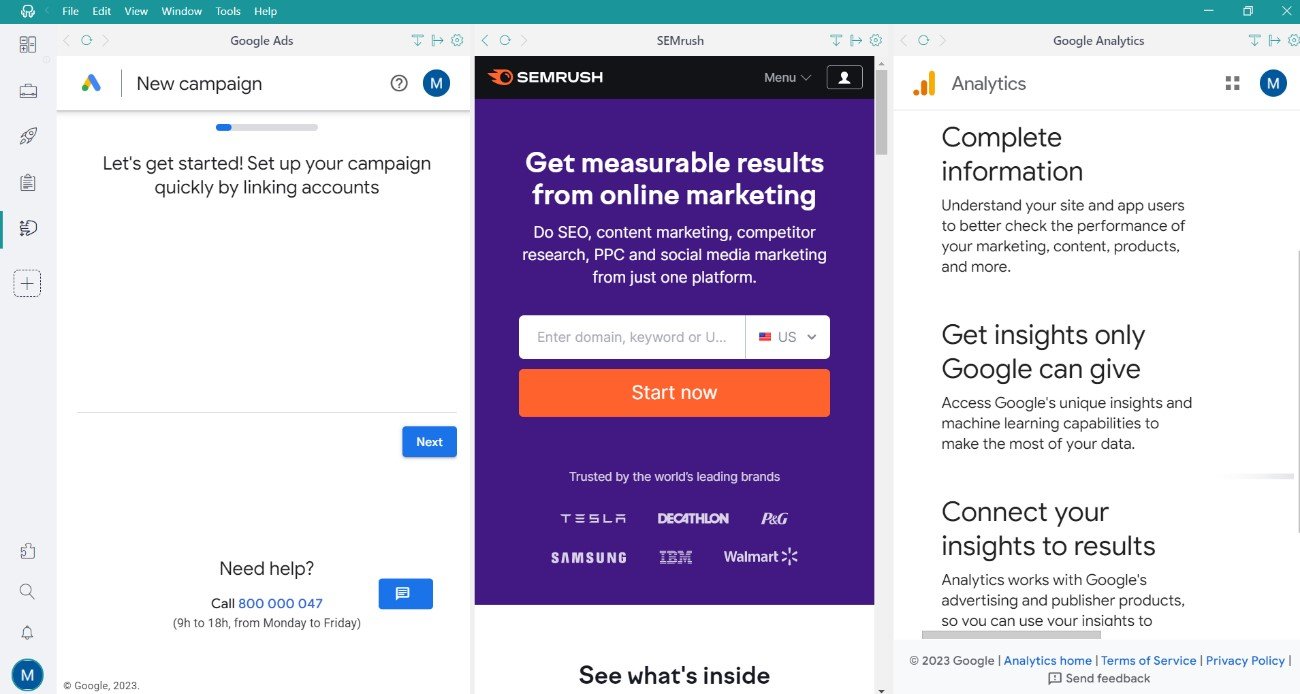 Another critical advantage of Rambox Workspaces for marketing teams is using different login credentials for each application. You can configure each application's login with the corresponding client's credentials. For example, suppose you have diverse customers and manage their social networks. In that case, you can create a workspace for each customer and configure applications such as Instagram, Twitter, Facebook, or TikTok to log in with the corresponding customer's credentials automatically. This dramatically simplifies the management of multiple social media accounts and avoids having to log in and out constantly.
Increased collaboration and coordination for work teams
Effective collaboration and coordination among team members is critical to the success of any project or business. When teams use different applications and platforms for communication and cooperation, staying aligned and sharing information efficiently may not be easy.
Teams can improve their collaboration and coordination by centralizing all their applications and tools. They can create a workspace with communication and collaboration applications like Microsoft Teams, Slack, Dropbox, and Google Drive. 
In addition, Rambox's Quick Search feature will allow them to search and find conversations and documents instantly, reducing time and increasing efficiency.
One of the outstanding features of Rambox Workspaces is the Notification Management, which allows you to customize all your workspaces notifications. With these settings, you can choose to receive desktop or sound notifications from your favorite applications. All notices are stored in the Notification Center, allowing you to consult them even if you have an application on mute.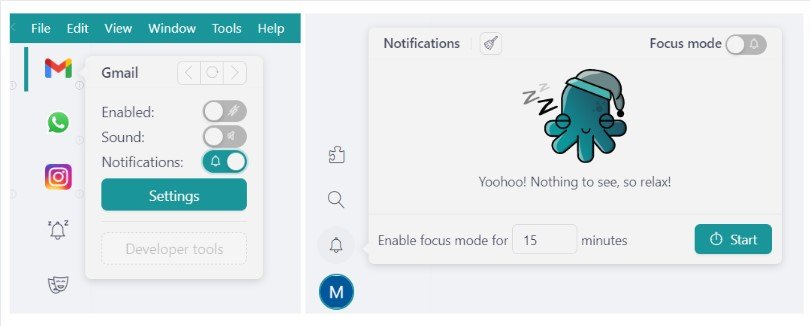 As you have seen, Rambox has a simple interface and looks fantastic. Now that you know why Rambox is the ultimate app organization tool, the last tip we can give you is to enjoy keeping everything organized in one place.
If you are overwhelmed by the number of applications you have to work with, and can't optimize your time and resources, try Rambox for free. All you have to do is download the program, configure it to your liking and start enjoying its functionalities. No cards, no cheating, it's that simple!