Managing various email and messaging accounts can be a challenge, and several common problems can arise:
Time management: managing multiple accounts can be time-consuming and lead to distractions and interruptions throughout the day.
Information overload: managing multiple accounts can lead to overwhelming messages and notifications, making it challenging to stay organized and focused.
Difficulty prioritizing: with multiple accounts to manage, it can be challenging to prioritize which messages and notifications are most important and require your immediate attention.
Confusion and mistakes: managing multiple accounts can lead to confusion and errors, such as sending a work email from your account or responding to a personal message with a work-related answer.
To overcome these problems, at Rambox, we want to explain which of our features can help you manage multiple email and messaging accounts and how to stay organized and productive.
Customizable workspaces
The organization is one of the keys to working with multiple email accounts and communication applications. Thanks to Rambox's customizable workspaces, you can have all your accounts and applications in one place, making it easier to quickly find what you are looking for and reducing the chances of making a mistake when writing a message or email.
Customizable workspaces will enable you to group applications by categories and display them in a way that suits your needs. They are the perfect way to separate the applications you use for different aspects of your life and maintain order. You can create, for example, a workspace for "Work" applications and another one called "Personal" for all your stuff. Or one workspace for each client you work for.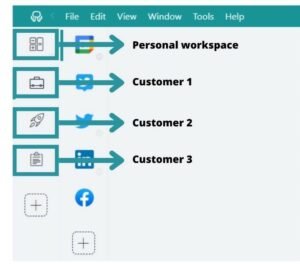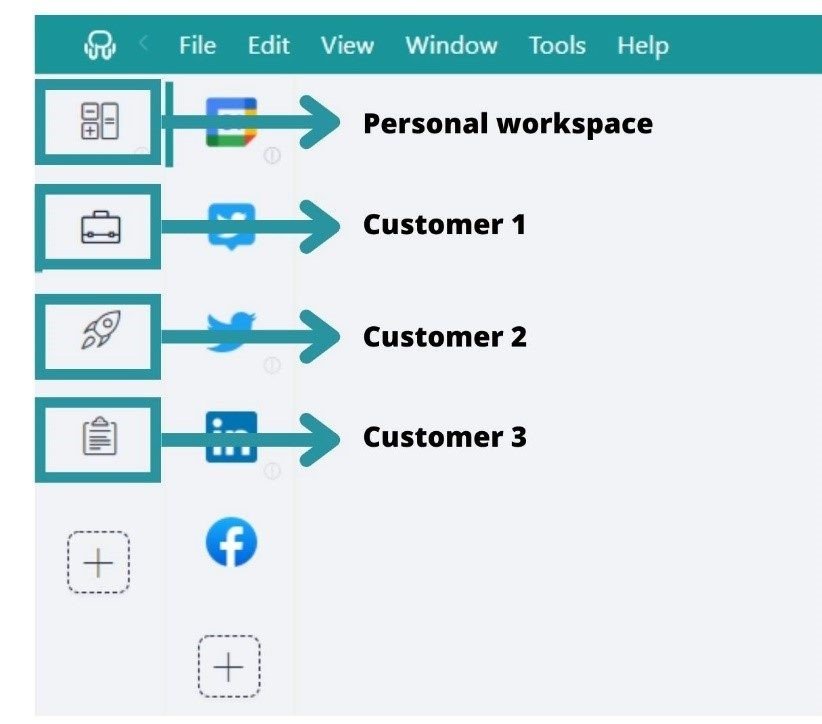 Another of its key features when working with multiple accounts is that you can choose the layout of each workspace and its corresponding applications. This way, you can set up your workspaces in full screen or tiled and use different predefined layouts to display your applications in the way that best suits your needs. For example, in a workspace dedicated to a specific client, you can see your Gmail account and Google Calendar at a glance and stay updated quickly. You can configure them to your liking, both horizontally and vertically.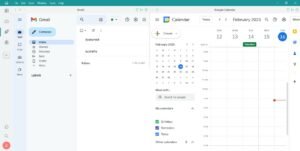 Session management and Profiles
One of the main advantages of working with multiple workspaces is that they allow you to save time when logging in to communication applications and prevent you from having to log in to Google multiple times or use different browsers for each login to your email.
This is possible because you can configure them so that each workspace works with different credentials. For example, if you need two email sessions, you can create two separate workspaces, each with a different email address.
Rambox allows you to share sessions across multiple apps, so you only have to log in once or in private sessions to sign in to numerous accounts of the same service. We have three main "Profiles".
Primary: default profile.
Inherit from the workspace: only for nested elements.
Private: isolated session.
Also, by clicking on the plus sign, you can edit and add more profiles. Let's say you create a "Work" profile where you connect to Gmail using your work credentials. Then you can add a Google Drive application anywhere in Rambox and assign it the Work profile, which will connect using those credentials.
In addition, you can set a profiling scheme for a workspace and all applications and workspaces within it, a specific profile, or even a private one if you want all nested applications to have their isolated profile.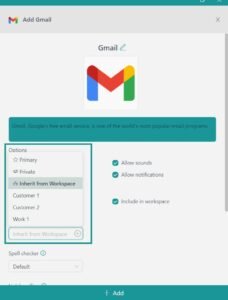 Notification management
Making a list of tasks and prioritizing them is also essential to increase productivity when working with multiple accounts. Notifications and messages can easily distract you and make it difficult to know which messages or tasks are more critical or urgent. Rambox offers comprehensive control of all notifications from your applications and workspaces.
You will be able to adapt the notifications of all your applications until they are pixel-perfect. Choose for each application and workspace whether you want to see a desktop notification, hear a sound, or not receive information from that application to focus on other tasks.
Don't worry if you mute notifications from specific applications. Those messages don't disappear. You can catch up with what you have postponed from the Notification Center. Rambox keeps track of all your notifications so you can stay up to date and quickly navigate to the app that notified you.
Rambox also visually reminds you of unread messages or emails for each app, so you can quickly decide where your attention is needed most.
Quick Search
Do you work with so many email accounts or communication applications that it is difficult to remember which session a particular conversation or message is in? This situation is a daily occurrence for many workers.
That's why the quick search in Rambox is not limited to applications. You can also search for conversations. Just type the name of the email subject or the name of your co-worker, and Rambox will automatically show you that email or chat, so you won't waste time looking for where it was.
Focus Mode
We know how important concentration is and how easy it is to lose it. The sound of apps or message notifications on the screen can cause us to lose concentration, and sometimes it's hard to refocus. That's why we've created the perfect solution to avoid distractions and improve your productivity and efficiency when performing a task: Focus Mode.
With this mode, you can choose whether to disable notifications indefinitely or set a manual time so that nothing disturbs you while you finish your task.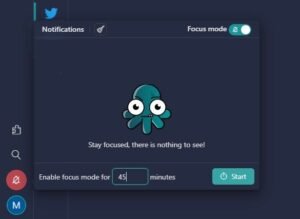 Bonus: Apps Manager
Regularly using multiple email accounts and messaging applications can be CPU-intensive, slowing down your computer.
When it comes to working, this is a problem as productivity and task efficiency are significantly reduced. In addition, for individuals, it increases stress and frustration at not being able to perform and complete even the most straightforward jobs.
The mere fact of using Rambox already presents benefits in terms of consumption since the main objective of the application is to get rid of using different desktop applications or opening several websites in your browsers which, in the long run, increases the use of resources in your system.
Rambox comes with an internal application management panel, which displays real-time metrics for each application and process running within Rambox. Apart from quickly seeing which applications consume the most resources on your PC, you can also disable applications or kill processes. Open the quick search panel (Alt+Shift+K) and type "application manager" to find it.
In addition, you don't need to periodically check application consumption for applications that might slow down your PC. Rambox will automatically warn you if your applications consume more CPU or RAM than usual so you can act quickly.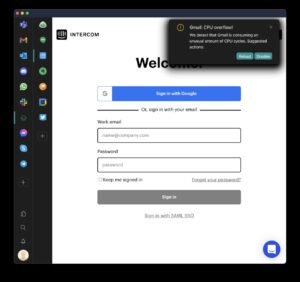 In conclusion, the Apps Manager feature of Rambox, although it does not help you to manage your different profiles, will optimize your computer resources when working with multiple email accounts or communication applications. This way, your productivity, and efficiency will not be affected by excessive slowness in the execution of your PC programs.
Rambox is your perfect solution to keep order in your workspace and increase your productivity if you work with multiple messaging applications and email accounts. Download Rambox, configure it to your liking, and enjoy all its advantages as soon as possible.
Any questions about the features of Rambox? Do not hesitate to contact us!