Digital collaboration is increasingly present in our work life. Whether working from home or the office, we need tools that allow us to carry out individual work in conjunction with our team so that they can edit or suggest changes to documents remotely, orderly, and securely.
Nowadays, collaborative tools have multiplied, and there are more and more options. On this occasion, we want to talk about Dropbox Paper, one of the most reliable collaboration tools today that will allow you to update your way of working or that of your company.
What is Dropbox Paper?
Dropbox Paper was born in 2015 as an alternative to Google Drive. It is a free collaboration tool that aims to facilitate teamwork to optimally create, manage, share and organize ideas for a project.
Features
Among the multiple features of the application, these are the most noteworthy:
Compatibility. One of Dropbox Paper's strengths is its compatibility with rich media from more than 20 websites and services. These integrations allow you to use Dropbox Paper with other applications such as Google Drive, YouTube, Spotify, or Trello.
Creativity. Include tables, links, graphics, videos, typography styles, and titles. Dropbox Paper allows you to create a creative and functional text document simply and intuitively.
Synchronization. Any file you save in Dropbox will also be instantly reflected on all devices where you have the application: computers, phones, tablets, and Dropbox websites.
Content centralization. Create and edit your work directly in Dropbox, including cloud content and Microsoft Office files.
Share files. Files stored by Dropbox can be shared via the app's official website and direct access links.
Notify your colleagues or employees. You can also notify your colleagues within a Paper document, add a calendar or a list of tasks and tag the people you want to notify.
Recover deleted files. The revision history allows you to recover deleted or old files. In free plan accounts, the revision history is cleared every 30 days. In paid versions, there are no clean-up periods.
Secure storage. Dropbox uses SSL (Secure Sockets Layer) transfers and AES-256 (Advanced Encryption Standard) encryption protocol to store files.
Advantages and disadvantages of Dropbox Paper
Dropbox has positioned itself as the main competitor to Google Drive when choosing a digital collaboration tool. However, it is not without flaws. Let's take a look at its main advantages and disadvantages: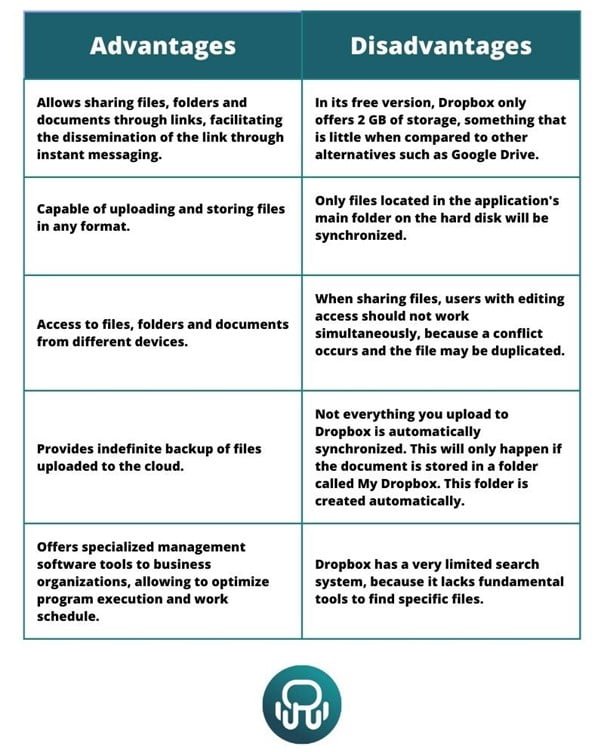 How to install Dropbox Paper on your PC?
The Dropbox desktop application is available for Windows, Mac, and Linux operating systems.
First, you will need to download the Dropbox application. You can install the application on Windows, Mac, or Linux.
Once the file is downloaded, open it and follow the installation steps. You will be prompted to enter your login details or create a new account when the app is installed.
Ensure you have installed the app with administrator privileges, as this is required to run all Dropbox functions on your PC.
If you install the app on Mac, it will need to access Keychain Access to verify the account and add another layer of security to the Dropbox app preferences.
Add Dropbox to Rambox
To add Dropbox Paper as an app to your toolbar in Rambox, click on the "+ add an app or workspace" icon.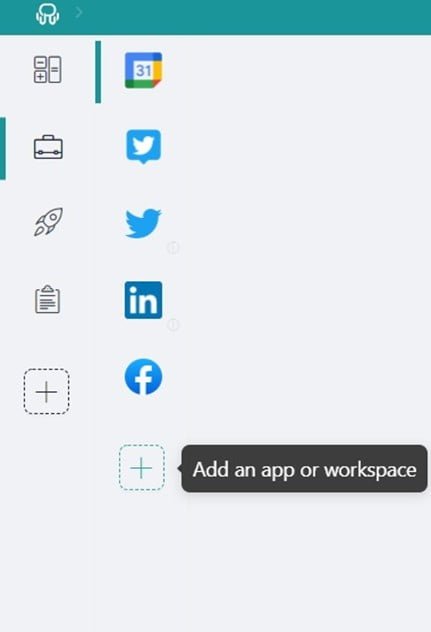 Then and type the name of the application you want to add in the search bar.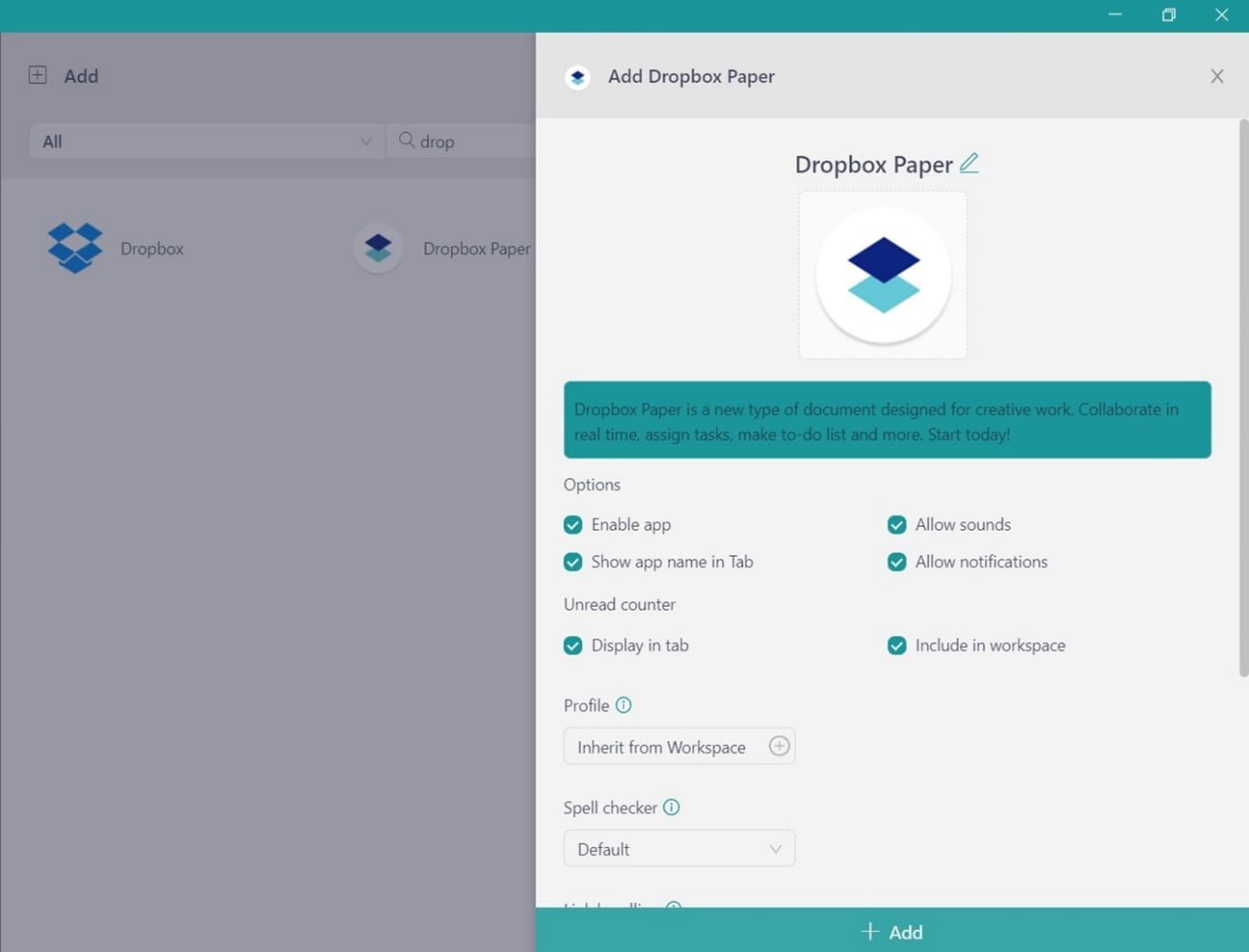 That's it! You now have Dropbox Paper set up in your Rambox session.
Dropbox Paper pricing
Dropbox offers its customers six different plans, and you can opt for a monthly payment method or an annual payment. Let's take a look at the features of each one:
Plus: Monthly $11.99 per month. Yearly, $9.99 per month. Offers unlimited device linking, 30 days of file and account history, the ability to send large files with Dropbox Transfer (up to 2 GB), and up to 3 free e-signatures per month.
Family: Monthly $19.99 per month. Yearly, $16.99 per month. It offers everything included in the Plus Plan. It has individual accounts for up to 6 people, access to the Family Room folder to share and coordinate each group, and a single invoice for the entire family.
Professional: Monthly $19.99 per month. Yearly, $16.58 per month. Offers everything included in the Plus Plan, including 180-day file and account recovery, advanced file sharing and locking controls, and large file delivery with Dropbox Transfer (up to 100 GB).
Standard: Monthly $14.50 per month. Yearly $12.00 per month. Offers 5TB of storage space and up to 3 users. This plan includes content protection and easy-to-use external sharing controls, the ability to recover files or restore your entire account for up to 180 days, and automatically back up computers and external drives connected directly to the cloud.
Advanced: Monthly $21.50 per month. Yearly, $18.00 per month. Offers unlimited storage, as much as needed, and up to 3 users. This plan includes all the features of the Standard Plan. It adds ongoing security monitoring, notifications and alerts, data classification for sensitive and confidential information, and large file delivery with Dropbox Transfer (up to 100 GB).
Enterprise: Offers unlimited storage space, all the features of the Advanced Plan, and includes enterprise-grade security and visibility tools, integrations with best-of-breed security solutions, and a dedicated customer success manager. As it is a fully customizable plan, its price should be consulted with the sales department to assess your needs.
Alternatives to Dropbox Paper
Based on Capterra, the specialized software review portal, the best alternatives to Dropbox Paper according to user satisfaction are as follows.
One Drive
OneDrive is a secure file access, sharing, and storage solution that allows users to store and share photos, videos, documents, and more, anytime and across all devices.
It is a collaborative platform; users can share files or folders. OneDrive supports other collaboration tools, such as real-time co-authoring, allowing users to work with anyone inside or outside their organization. Users can also track what files are shared and with whom they have been shared. The sharing feature within the application allows each employee to share and set specific access permissions for their files based on organizational parameters.
Airtable
Airtable is an intelligent organization and collaboration tool that provides a single, centralized platform for teams of any size to manage projects, clients, and ideas. As a flexible, mobile-friendly system with native apps for smartphones and desktops, Airtable allows users to organize anything, with anyone, from anywhere.
The app is designed to be fast, simple, and powerful. In addition to spreadsheet functions, Airtable incorporates rich text fields, customizable forms, screens, integrations, and intelligent content linking. Airtable supports integration with various applications, such as Dropbox, Slack, and GitHub, allowing users to manage the movement of content between applications quickly and securely.
SmartDocs
This is document automation software designed to help SharePoint and Microsoft Word users share, track and control content across multiple digital channels. It allows managers to reuse approved content and collaborate with internal and remote teams.
It has an intuitive user interface, reusable snippets, conditional text, document snapshots, bulk publishing, status notifications, content mapping, and usage tracking. The platform allows employees to generate multiple document variations from a master Word document and automatically show and hide content based on individual needs.
If you are overwhelmed by the number of applications you have to work with, and can't optimize your time and resources, try Rambox for free. All you have to do is download the program, configure it to your liking and start enjoying its functionalities. No cards, no cheating, it's that simple!