Work productivity is the amount of valuable work done in a given time, in this case, in your working day. This amount of practical work should be the maximum possible and should be increased to make the most of your working hours, whether you are a worker or an entrepreneur.
With the advent of new technologies, concentration and productivity can be put at risk. Dozens of notifications may arrive simultaneously, multiple tasks to perform appear every few minutes, and sounds or conversations can distract you… In conclusion, numerous factors can jeopardize your work productivity.
For this reason, this week, we show you the features of our workspace simplifier that will help you increase your productivity.
Customizable workspaces
One of the main aspects of productivity is organization. The more organized your workspace and tools are, the faster you can find what you need, thus increasing your productivity. In the case of Rambox, the app allows you to organize different workspaces. Customizable workspaces will enable you to group applications by categories and display them in a way that suits your needs.
Workspaces increase productivity, as they are a way to separate the applications you use for different aspects of your life and maintain order. You can create, for example, a workspace for "Work" applications and another one called "Personal" for all your stuff. This way, you can easily organize your applications.
One of the main advantages of working with multiple workspaces is that they allow you to save time when logging into applications and prevent you from logging into Google various times or using different browsers for each login. This is possible because you can configure them so that each workspace works with other credentials. For example, if you need two email sessions, you can create two separate workspaces, each with a different email address.
Another of its key features when it comes to improving your productivity is that you can choose the view mode of each workspace and its corresponding applications. This tool allows you to configure your workspaces in full screen or tiled and uses different predefined layouts to display the applications you use in a way that suits your needs. You can configure them to your liking, either horizontally or vertically. If, for example, you work with analytics applications such as Google Ads or Meta Business, you can see what you need quickly with this functionality.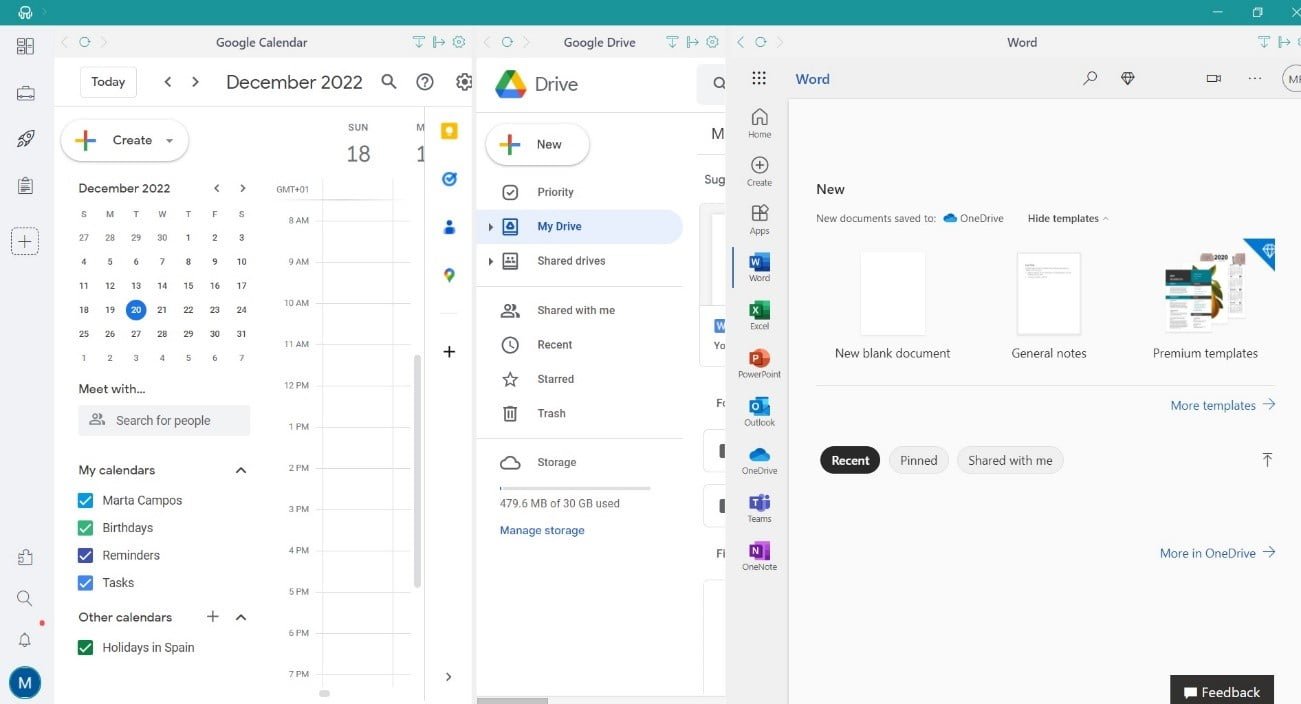 Notification management
Making a list of tasks and prioritizing them is also essential for increasing productivity. Notifications can easily distract us, so it is crucial to classify messages and adapt them according to the needs of the working day.
Rambox gives you complete control of your notifications. You will be able to adapt the notifications of all your applications until they are pixel-perfect. Choose for each application and workspace whether you want to see a desktop notification, hear a sound, or not receive information from that application to focus on other tasks.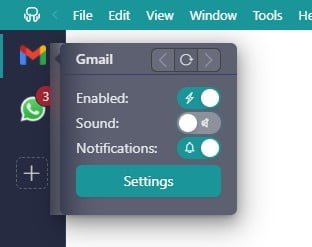 Don't worry if you mute notifications from specific applications. Those messages don't disappear. You can catch up with what you have postponed from the Notification Center. Rambox keeps track of all your notifications so you can stay up to date and quickly navigate to the app that notified you.
Rambox also visually reminds you of unread messages or emails for each app, so you can quickly decide where your attention is needed most.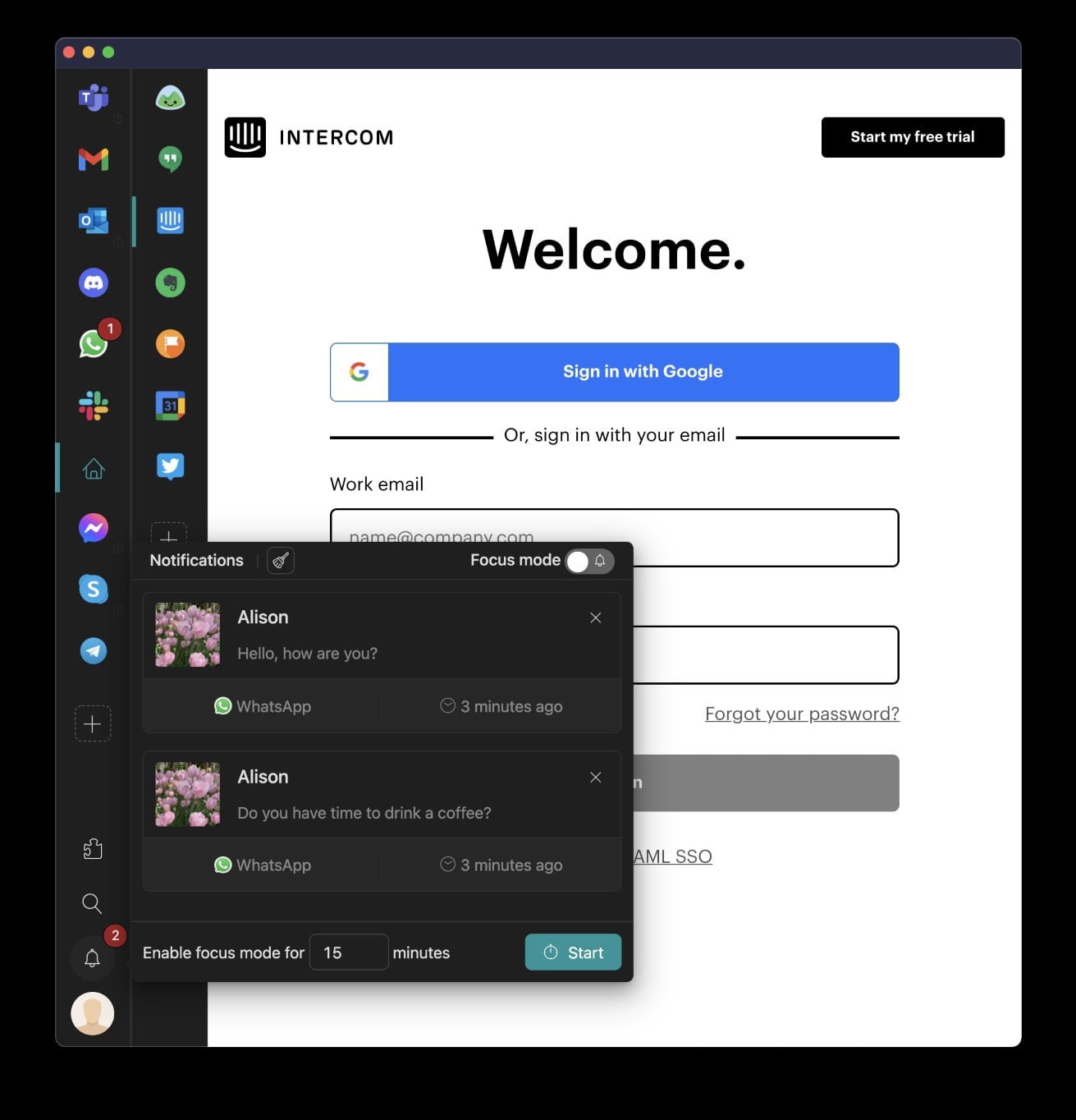 Quick Search
Rambox's quick search is designed to maximize your productivity and efficiency. You'll be able to save time by jumping from one app to another fast. Reply to someone in Slack, read an email or finish editing your document at ninja speed.
You can find the quick search in your main menu or with the keyboard shortcut Alt+Shift+K.
As we have mentioned, at Rambox, we think of everything that can increase your productivity. That's why our quick search also allows you to search not only for applications but also files or conversations. Just type the name of the file you've been working on or your co-worker's name, and Rambox will automatically show you that file or chat, so you don't waste time looking for where it was.
Focus Mode
We know how important concentration is and how easy it is to lose it. The sound of apps or message notifications on the screen can cause us to lose concentration, and sometimes it's hard to refocus. That's why we've created the perfect solution to avoid distractions and improve your productivity and efficiency when performing a task: Focus Mode.
With this mode, you can choose whether to disable notifications indefinitely or set a manual time so that nothing disturbs you while you finish your task.
Extensions
With our selection of Google Chrome extensions, your day-to-day life will be much easier. You can improve your productivity by integrating applications to remember passwords, an adblocker that allows you not to spend your time watching advertising, a spell checker to save time in revisions, and much more.
You will be able to enable different extensions in each application easily. Extensions work per session. This means that if you have two applications with the same login or profile and add an extension to one, both will have the extensions you set up first.
JavaScript and CSS injection
Automating specific processes or tasks is essential to increasing a worker's productivity or the company itself. Knowing how to save time on tedious and repetitive tasks is vital.
This is why Rambox allows changing the behavior of an application by including code to add extra functionality, change a default action, etc.
With JavaScript injection, developers can tweak all these details to improve their experience with any application. In addition, the layout of applications can also be changed manually or using a Stylish service.
Real-time synchronization
When working from multiple devices, synchronization is essential to increase productivity. Rambox saves all your workspace and application settings, synchronizing all your devices in real-time, so you don't waste time reconfiguring your preferences, application functionality, or any other aspect on different computers.
When you change your workspace settings in Rambox, such as adding a workspace, reordering your applications, or muting certain notifications, our servers will save these changes. The application will be synchronized instantly if you have the application installed on another device.
Now that you know how Rambox functionalities and features can help you improve your productivity, download Rambox, configure it to your liking, and enjoy all its advantages as soon as possible.
Any questions about the features of Rambox? Do not hesitate to contact us!