If you want to enjoy the Instagram app on your computer, an Instagram desktop app is the perfect solution. The web application has certain limitations, such as being able to manage a maximum of five accounts from a single session. This feature, for example, may need to be improved for marketers who handle many profiles.
In this article, we'll show you how to get the Instagram desktop app and use it on your computer.
Is there a desktop app for Instagram in the Apple Store?
The short answer is no. The Instagram app for Apple is currently only available for iPhones. However, there are alternatives to enjoying Instagram on your desktop:
Web version: Accessing the web version of this social network is simple. Just open your favorite browser and go to instagram.com. Log in to your Instagram account or sign up if you don't have one. Once logged in, you'll see the Instagram homepage in your browser. From here, you can view your profile, posts, news feed, and other platform features.
Create a shortcut in Safari: If Safari is your Mac browser of choice, you can follow these steps to save Instagram as a shortcut on your desktop:

Go to the instagram.com
Slightly shrink your browser window until part of your desktop is visible.
Drag the highlighted URL to your desktop.

Create a shortcut in Chrome: If Google Chrome is the browser you usually use on your Mac, follow the steps below to create a shortcut:

Go to the Instagram.com URL.
Click on the vertical dots in the top right corner of your browser.
Choose More tools and Create a shortcut.
Name your shortcut.
Your new shortcut will be saved in a Chrome app folder, where you can drag it to your desktop or its dock at the bottom of the screen.

Download an Android emulator: This emulator will make your Mac work as an Android phone so that you can interact with the Instagram app. However, several things could be improved if you choose this option. Android emulators can be very demanding in terms of system performance. Some Android apps may not work correctly on an emulator. Finally, downloading and setting up an Android emulator on your Mac can be complicated and require technical knowledge.
Add the Instagram app to your Rambox session: If you want to avoid all the drawbacks of the previous point, Rambox is the perfect solution. Rambox is a workspace simplifier that allows you to consolidate several social networking applications in one place and enjoy all the app's functionalities.
Why install the Instagram desktop application on your PC?
Instagram is one of the most popular and widely used social media platforms today. While most people use it through their mobile devices, there are also many advantages of having Instagram on your desktop.
First, having Instagram on your desktop allows you to view and post photos and videos on a larger, more convenient screen. This can be especially useful if you're editing photos or videos before posting them to Instagram.
Also, by using Instagram on your desktop, you can take full advantage of your computer's keyboard and mouse. It's much easier to type long comments or reply to messages using a physical keyboard than it is to do it on a cell phone.
Another advantage of having Instagram on your desktop is that you can keep your conversations and notifications open in a separate tab. At the same time, you work on other things on your computer. This makes it much easier to keep up with your messages and notifications on Instagram without constantly checking your phone.
How to install the Instagram app on your Mac
Using Rambox to access the Instagram app on Mac turns out to be one of the most efficient solutions to make up for the app's non-existence in the App Store. Rambox is available for Windows, macOS, and Linux and has a selection of over 700 apps, including Instagram. By adding the app to your Rambox session, you can enjoy all the features of the mobile app with the advantages of using a PC.
To add the Instagram application, you need to follow three simple steps:
1. Click on the "+add an app or workspace" icon.
2. Type "Instagram" in the search bar.
3. Configure your preferences and click "add".
That's it! You can now easily enjoy the Instagram app on your Mac.
Benefits of using the Instagram app on Rambox
If you work with social networks and your usual tasks are to manage different Instagram accounts, Rambox can bring you multiple advantages. We explain them below.
Customizable workspaces
The organization is one of the keys to working with multiple Instagram accounts. Thanks to Rambox's customizable workspaces, you can have all your accounts in one place, making it easier to quickly find what you're looking for and reducing the chances of making a mistake when writing a message or email.
Customizable workspaces allow you to group applications by category and display them in the way that best suits your needs. They are the perfect way to separate the different Instagram accounts you use for different aspects of your life and maintain order.
If you have multiple accounts on Instagram, another of its key features is that you can choose the layout of each workspace and its corresponding applications. This way, you can set up your workspaces in full screen or tiled and use different predefined layouts to display Instagram in the way that best suits your needs. You can configure them to your liking, both horizontally and vertically.

Quick search and shortcuts
Do you work with so many Instagram accounts that you find it difficult to remember which session a particular conversation or post is in? This situation is a daily occurrence for many social media workers.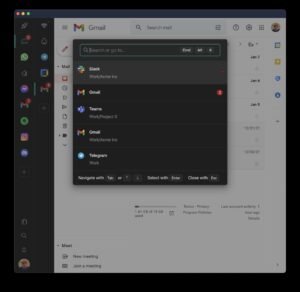 That's why a quick search in Rambox is not limited to applications. You can also search for conversations. Just type in the username of the person you were talking to, and Rambox will automatically show you that chat, so you don't waste time looking for where it was.
Notification management
Instagram's mobile app allows you to configure and customize your notifications, a feature that the web version does not offer.
Using Instagram from Rambox will not be a problem for you. Rambox offers comprehensive control of all notifications from your applications and workspaces.
You will be able to adapt the notifications of all your applications until they are pixel-perfect. Choose for each application whether you want to see a desktop notification, hear a sound, or not receive information from that application to focus on other tasks.
Don't worry if you mute notifications from specific applications. Those messages don't disappear. You can catch up with what you have postponed from the Notification Center. Rambox keeps track of all your notifications so you can stay up to date and quickly navigate to the app that notified you.
Rambox also visually reminds you of unread messages or emails for each app, so you can quickly decide where your attention is needed most.
Rambox is your perfect solution to keep order in your workspace and increase your productivity if you work with multiple Instagram accounts. Download Rambox, configure it to your liking, and enjoy all its advantages as soon as possible.
Any questions about the features of Rambox? Do not hesitate to contact us!