This guide delves into Zoho alternatives, shedding light on dynamic solutions offering unique features, collaboration enhancements, and platform compatibility.
Zoho Workplace is an integrated suite of tools designed to enhance teamwork and streamline processes within your company. One of its key components is the Zoho Office Suite, a comprehensive office application collection covering various essential tasks.
While Zoho Office Suite has undoubtedly made its mark in productivity software, there are compelling reasons to explore alternative options. Diverse user needs, varying collaboration demands, and evolving technological landscapes prompt a search for alternatives that better align with individual and team workflows. Venturing beyond the familiar opens doors to innovative features, improved integration possibilities, and tailored solutions that catalyze efficiency. Whether you're seeking enhanced collaboration tools or specific functionalities, understanding the "why" behind considering alternatives sets the stage for a comprehensive exploration.
5 alternatives to Zoho Office Suite
Diving into the realm of alternatives, we explore five compelling options that can reshape your productivity landscape.
Microsoft Office Suite
Microsoft Office 365 is a comprehensive suite of productivity tools and cloud-based services offered by Microsoft. It is designed to enhance collaboration, communication, and efficiency for individuals, businesses, and organizations of all sizes. Microsoft 365 provides a range of applications and services that enable users to create, edit, share, and collaborate on various documents, presentations, spreadsheets, and more.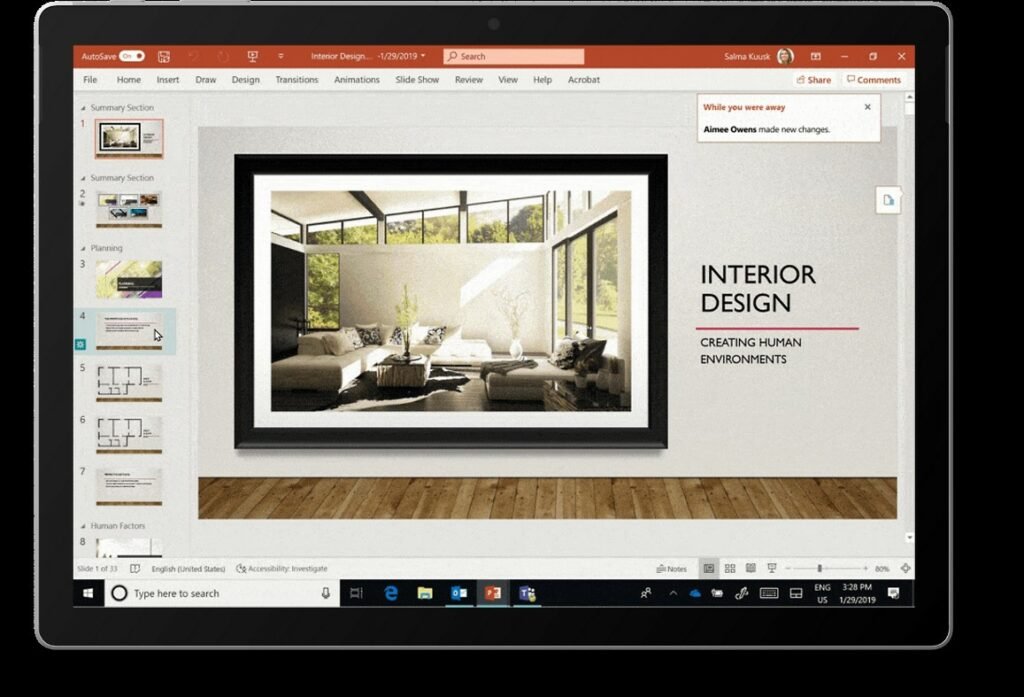 Critical components of Microsoft 365 include:
Word: A powerful word-processing application for creating and editing text documents.
Excel: A versatile spreadsheet software for data analysis, calculations, and visualizations.
PowerPoint: A presentation tool for designing and delivering engaging slide shows.
OneNote: A digital note-taking application that allows users to create and organize notes, drawings, and multimedia content.
Within Microsoft 365, integrating its core Office Suite apps with other features is seamless and enhances collaboration. For instance, Word documents can be directly attached to Outlook emails for easy sharing, while Excel data can be embedded within Teams conversations, fostering dynamic discussions. PowerPoint presentations can be stored on OneDrive and edited simultaneously by team members in real-time through Teams, enabling efficient content refinement. This tight integration ensures that files created in the Office Suite apps are effortlessly accessible, shareable, and editable across the various collaborative tools and platforms within Microsoft 365, promoting efficient communication and teamwork.
Paid plans of Microsoft 365
Microsoft 365 is available through various subscription plans, catering to individual users, businesses, and educational institutions. It provides the advantage of cloud-based access, allowing users to work on documents and collaborate from different devices and locations while ensuring security and data protection through advanced features and encryption.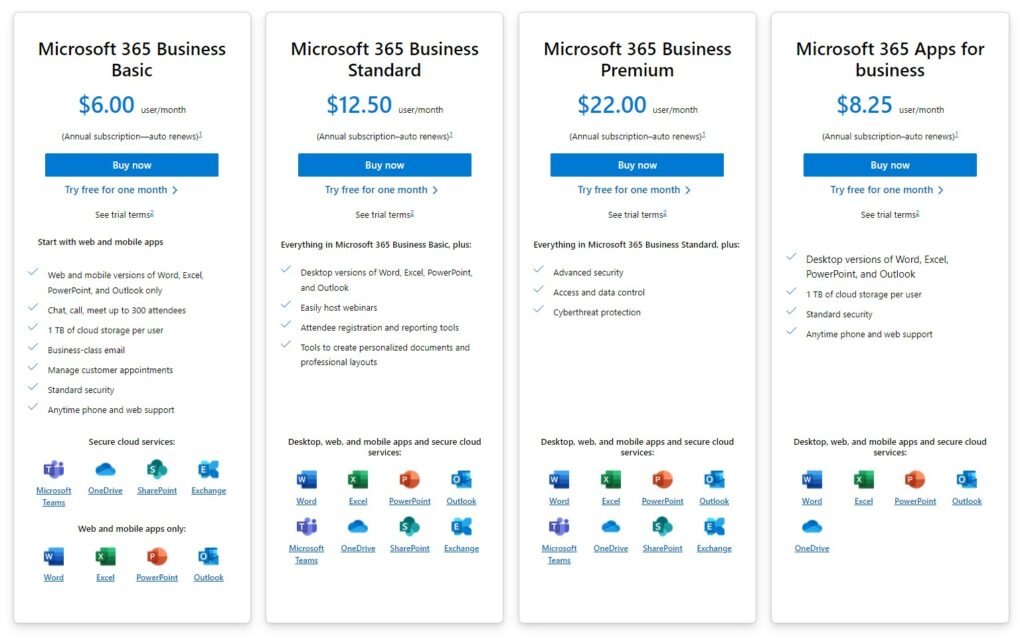 Google Office Suite
Google Workspace, formerly known as G Suite, is a comprehensive suite of cloud-based productivity and collaboration tools developed by Google. It enhances teamwork, communication, and efficiency for individuals, businesses, and organizations. Google Workspace offers a range of applications and services that enable users to create, edit, share, and collaborate on various documents, presentations, spreadsheets, and more.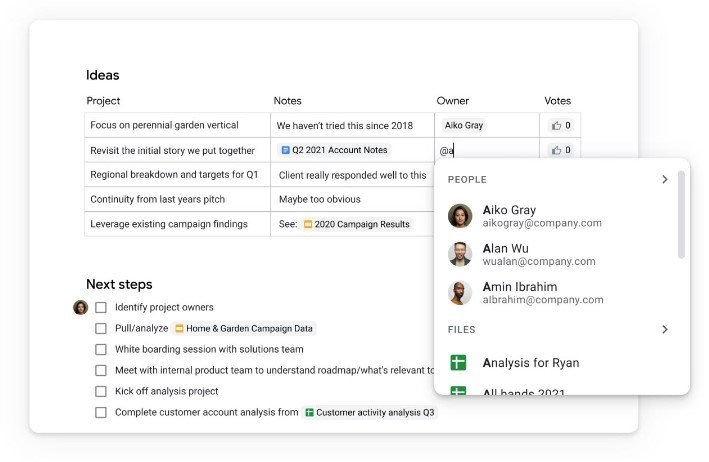 Key components of Google Workspace include:
Google Docs: Google Docs seamlessly integrates with Gmail, allowing users to share documents directly through email. Collaborators can receive email notifications when changes or comments are added to shared documents. Additionally, Google Docs integrates with Google Drive for easy storage and access of documents and with Google Meet for real-time communication during document collaboration.
Google Sheets: Similar to Google Docs, Google Sheets also integrates with Gmail, facilitating document sharing via email. Users can receive notifications about changes and comments. The integration with Google Drive enables efficient storage and retrieval of spreadsheet files. In contrast, integration with Google Calendar allows users to create events and set reminders based on data within Sheets.
Google Slides: Google Slides offers integration with Gmail to share presentations via email and receive alerts about updates. The integration with Google Drive ensures that slide decks are centrally stored and accessible. Integration with Google Meet allows for interactive presentations with real-time video conferencing.
Google Office Suite, comprising Google Docs, Sheets, and Slides, seamlessly integrates with other Google Workspace applications, such as Google Calendar, Google Meet, Gmail, or Google Drive. These integrations create a cohesive environment that enhances productivity and collaboration, allowing users to create, edit, share, and communicate seamlessly within their documents, spreadsheets, and presentations while benefiting from the broader capabilities of the Google Workspace ecosystem.
Google Workspace offers a subscription-based model with various plans catering to different user needs, ranging from individual users to small businesses and large enterprises. It leverages cloud-based technology to enable seamless collaboration and access to documents from various devices, promoting efficient communication and productivity.
Paid Plans of Google Workspaces
The Free plan is designed for individuals or small teams and includes access to Gmail, Google Drive, Docs, Sheets, Slides, and Meet. It offers 15GB of storage per user, allowing you to collaborate and create documents, spreadsheets, and presentations. However, it needs some advanced features and administrative controls available in the paid plans.
Apple Iwork
Apple iWork is a purpose-built productivity suite exclusively designed for iOS and macOS users while also offering compatibility through iCloud for broader access. The Suite encompasses three core applications: Pages, Numbers, and Keynote, all available for free to users with an Apple ID.
Pages: As a comprehensive word-processing application, Pages provides users with various functionalities beyond basic document creation. With over 90 professionally crafted templates, it facilitates the easy generation of documents ranging from reports to invitations, all with high design sophistication. Its seamless integration with Apple's Suite of applications enhances its utility, while its ability to open and edit Microsoft Word and plain text documents ensures flexibility.
Keynote: Designed for presentation creation and playback, Keynote offers unique features that distinguish it from counterparts like Microsoft PowerPoint. Equipped with an assortment of templates, transitions, and effects, Keynote streamlines the creation of visually impressive presentations with minimal effort. Presentations are saved as .key files by default, though compatibility with various formats, including .ppt is also supported.
Numbers: Introduced in 2007, Numbers functions as a dynamic spreadsheet application that facilitates data organization in tables, formula-driven calculations, and creating visually engaging graphs and charts. Its notable differentiation lies in the ability to create multiple tables within a single document on a flexible canvas. Offering more than 30 pre-designed templates catering to finance, education, and business, Numbers ensures graphics remain up-to-date as spreadsheet data evolves.
Apple's iWork suite stands out by fostering creativity and innovation. Its trio of applications enables the creation of documents, slides, and presentations that capture attention with effects, graphics, and animations. Embracing a dynamic and visually engaging approach to productivity, iWork empowers users to craft content that seamlessly blends design and functionality.
OnlyOffice
OnlyOffice emerges as a compelling office suite solution tailored to streamline collaboration and enhance productivity across diverse professional landscapes. This comprehensive Suite marries a robust set of applications emphasizing collaborative workflows, ensuring seamless team interaction and effective project management. From real-time co-authoring to versatile document management, OnlyOffice is a dynamic hub for individuals and teams seeking to optimize their collaborative endeavors.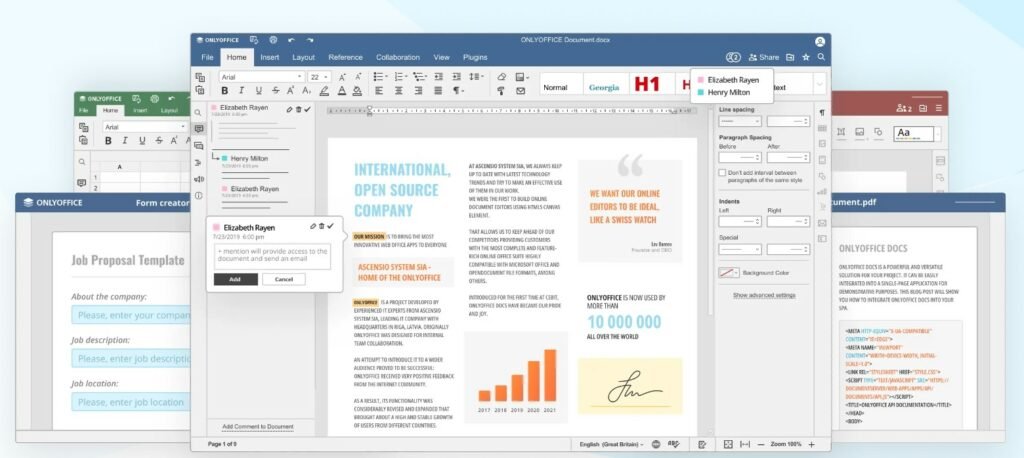 Document Editor: The Document Editor offers a comprehensive word processing experience, allowing users to create, format, and edit text documents precisely. It supports many file formats, including DOC, DOCX, ODT, TXT, PDF, and HTML. Users can control fonts, styles, paragraph and line spacing, and page layout. Additionally, the Editor accommodates the insertion of images, tables, charts, and shapes, all adjustable for optimal alignment. Word count, paragraph count, character analysis, and version history tracking enhance document management. Integrations with third-party add-ons extend its capabilities, from inserting YouTube videos to image editing.
Presentation Editor: OnlyOffice's Presentation Editor facilitates the creation of visually captivating presentations akin to Microsoft PowerPoint. It supports various file formats, including PDF, PNG, JPG, PPTX, PPT, and ODP. Users can craft engaging presentations with customizable charts, tables, equations, videos, clip art elements, and symbols through third-party add-ons. The "Presenter View" mode allows for notes and streamlined slide navigation. Real-time collaborative editing enhances teamwork.
Form Creator: empowers users to craft intricate forms and extract data upon completion. Users can generate documents from scratch or templates, integrating text areas, drop-down lists, checkboxes, and combo boxes. These forms can be hosted online for respondents.
OnlyOffice offers a range of other features that seamlessly integrate with its suite apps. The robust email management tool OnlyOffice Mail ensures efficient communication and links emails to the Suite's Document Editor, facilitating quick reference and collaboration. Moreover, OnlyOffice CRM enhances customer relationship management by synchronizing data with the Suite's core applications, enabling customer insights to enrich documents and presentations created using the Document and Presentation Editors. This comprehensive integration streamlines business workflows by fostering a cohesive flow of information across OnlyOffice's Suite of apps, driving enhanced productivity and collaboration.
This trio of features forms a holistic suite designed to enhance productivity, streamline customer interactions, and optimize project management processes for individuals and teams.
Pricing plans of OnlyOffice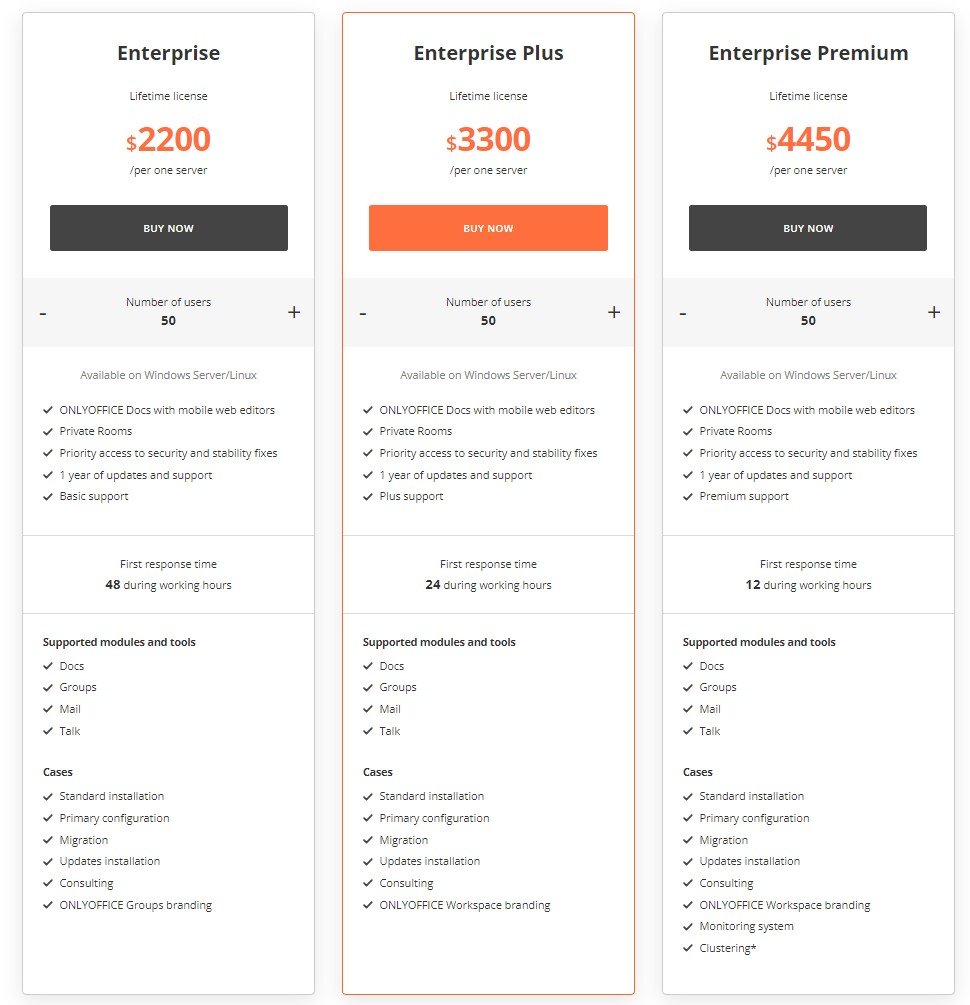 WPS Office
WPS Office is a comprehensive and dynamic office suite designed to cater to diverse professional tasks. With its trio of applications—WPS Writer for word processing, WPS Spreadsheets for data analysis, and WPS Presentation for impactful presentations—it addresses the multifaceted needs of individuals, students, and businesses alike.
WPS Writer: Document Excellence: WPS Writer empowers users to create, edit, and format documents with finesse. From crafting formal documents to creative compositions, it offers various formatting tools, styles, and templates to suit every context. The spellchecker, grammar checker, and auto-correction features ensure precision in written communication.
WPS Spreadsheets: Mastering Data Management: WPS Spreadsheets excels in data management and analysis. Users can effortlessly organize and manipulate data using an extensive library of functions, formulas, and data visualization tools. Whether financial calculations, statistical analysis, or inventory management, WPS Spreadsheets equips users with the necessary tools.
WPS Presentation: Captivating Visual Narratives: WPS Presentation empowers users to craft captivating presentations that captivate audiences. An array of customizable templates, multimedia embedding, and animation effects help convey ideas with impact. Whether presenting to colleagues, clients, or stakeholders, WPS Presentation ensures a visually engaging narrative.
WPS Office ensures smooth compatibility with various file formats, eliminating compatibility barriers in document exchange. Collaborative features enable real-time collaboration on documents, spreadsheets, and presentations, fostering efficient teamwork.
Pricing plans of WPS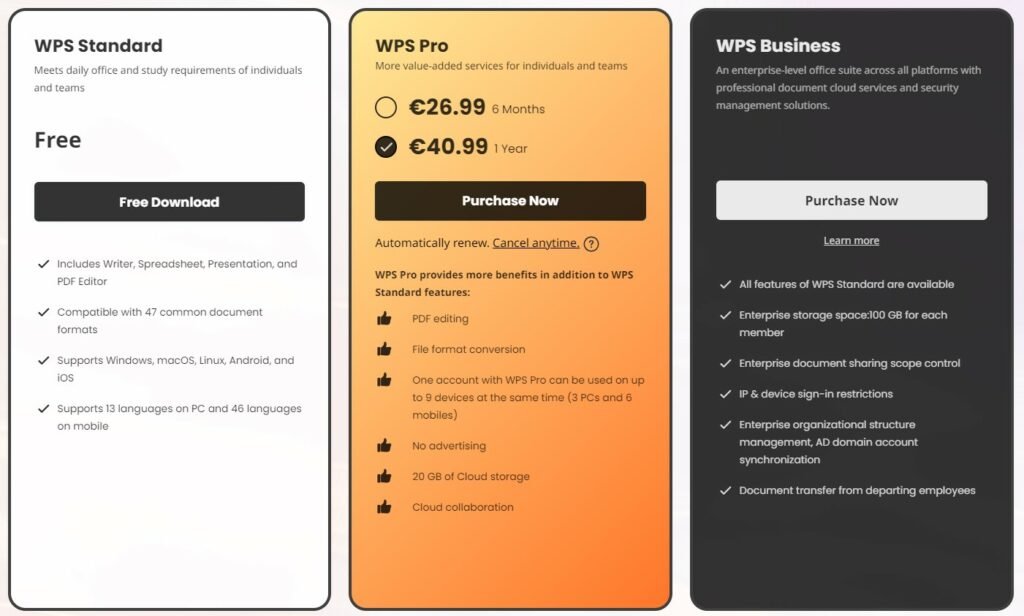 How to work with these tools in Rambox?
Rambox is a workspace organizer that allows you to unify all the applications you want in one place, making it the perfect tool to improve productivity when working with multiple documents, spreadsheets, or presentations.
In Rambox, you will be able to work with all Microsoft, Google, Apple, and Zoho office applications from a single interface. Here's how you can add these applications to your main tab or workspaces, you will only have to follow four simple steps.
1. Click on the + icon in your applications panel.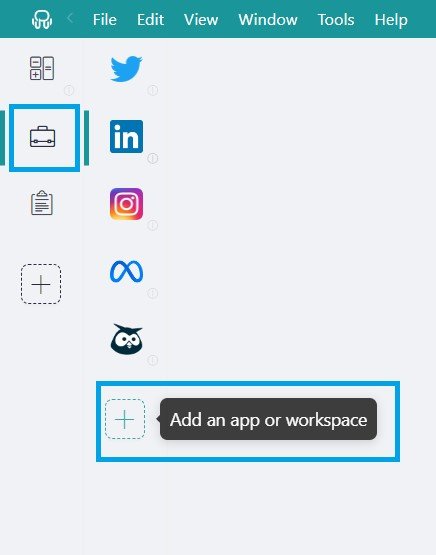 2. Choose which applications you want to add to Rambox. In the options below the search bar (top left), you will find the "suites" with all office applications available.
3. In each category according to the company, you can find all the available applications.
a) Apple
b) Microsoft
c) Google

d) Zoho
4. Choose the application you want to add to your workspace and click on the "+ add" button to add the application to your application panel.
That's it! You can now work with the applications you want, all on the same desktop and in an organized way. Choose which profile you want to use in your apps, how you want the app notifications to be, if you want the apps to go into hibernation mode after a specific time and much more! Remember that Rambox allows you to adapt your applications to your needs, so configure it to your liking.
If the number of applications you work with overwhelms you, and you can't optimize your time and resources, try Rambox for free. Just download the program and enjoy its features. No cards, no cheating, it's that simple!