Google Workspace is a set of Cloud tools that aim to improve your company's operations. They are based on increasing employee productivity and collaboration, ease of use, and 100% multi-device architecture.
Among the applications that Google Workspace has, we find the following categories:
Communication: this category focuses on the ease of communication, both internal and external, to the company. We see applications such as Gmail, Google Meet, Calendar, Chat, and Voice.
Storage: Google Drive and Could Search are the storage applications of Google Workspace.
Collaboration: Google has a multitude of formats for creating documents, allowing collaboration between users. This category includes applications such as Documents, Spreadsheets, Forms, Presentations, Sites, and AppSheet.
Administration: finally, it allows you to easily manage your company with applications such as Administration Console and Vault.
Google Workspace pricing plans are as follows:
If the functionalities and plans offered by Google Workspace are not the right ones for your company, don't worry. At Rambox, we have created a list of alternatives to Google Workspace with all the relevant information so that you can make the best-informed decision.
Microsoft 365 for Business
Microsoft 365 for Business is one of the best alternatives to Google Workspace. It is a solution that combines productivity, collaboration, and device management tools.
Microsoft 365 for Business includes the following applications:
Word: word processor that includes many templates to make your documents more attractive and professional.
Excel: powerful spreadsheet.
PowerPoint: program to create attractive, interactive, and professional presentations.
Teams: collaboration application that allows collaborative work between different teams. It includes the possibility of videoconferencing (allows recording), chats, whiteboards, files, and notepads.
Outlook: personal information manager. It allows you to send and receive email messages, manage your calendar, store contact names and numbers and keep track of your tasks.
OneDrive: Microsoft cloud service that connects you to all your files. It allows you to store and protect your files, share them with other users and access them from anywhere on all your devices.
SharePoint: Portal creation tool. It can be a secure place to store, organize, share and access information from any device.
Exchange: professional or educational email account.
Intune: cloud-based endpoint management solution. Manages user access and simplifies application and device management across many devices, including mobile devices, desktops, and virtual hotspots.
Azure Information Protection: it helps organizations discover, classify, label, and protect sensitive documents and emails.
Access (PC-only): a database that can be used in a standard web browser but is designed and modified in Access 2013 or later.
Publisher (PC only): desktop publishing application that helps you create professional-looking, visually rich publications.
Microsoft 365 for Business has several subscription plans. They are as follows:
Zoho Workplace
Zoho Workplace is a pack of tools that facilitate your company's teamwork with better communication between your team, streamlining processes, and reducing wasted time in repetitive tasks and duplication of functions.
Zoho Workplace includes the following applications:
Zoho Mail: corporate email integrated with the different Zoho CRM and Workplace tools.
Zoho Workdrive: online content collaboration and file storage platform created for individuals and teams. It allows you to store, organize and manage all your files in one place and access them from any device.
Zoho Office Suite: Zoho's combination of office applications. It includes Zoho Writer (word processor), Sheet (spreadsheet), Show (presentation tool), and Notebook (notes application).
Zoho Cliq: team collaboration software that enables collaborative messaging and group audio and video calls.
Zoho Meeting: secure online meeting platform and webinar solution.
Zoho Workspace has two different subscription plans:
Apple iCloud+
iCloud is a cloud storage and services platform. This system allows you to centralize all the information a user has, which can be shared between different Apple devices.
This Apple service includes the following applications and functionalities:
iCloud Mail: Apple's email tool.
iCloud Drive: cloud storage system.
Apple iWork: iWork is a suite of office productivity software designed exclusively for users of iOS and macOS operating systems. It includes three primary tools: Pages (word processor), Keynote (tool for creating and playing presentations), and Numbers (spreadsheet).
Contacts: you can centralize your contact list from all the apps and mobile devices you link to your iCloud account, including Microsoft Outlook contacts.
Calendar: Apple's interactive calendar lets you keep your tasks in order.
Reminder: similar to Calendar, this app allows you to set reminders for to-dos in the form of a list. These will be created automatically on all the devices associated with your account.
Apple has renewed the functionalities and subscriptions to the paid iCloud, focusing much on security rather than differentiating its plans by storage capacity. The free version of iCloud has up to 5GB of storage. For those users or companies that need more storage and/or functionalities, Apple has three different plans:
Rackspace
Rackspace is a cloud computing company that offers a wide range of services and solutions for businesses of all sizes. Primarily, it has two lines of business: cloud servers and dedicated servers.
Rackspace's main core offerings include the following:
Managed hosting: access to powerful servers and infrastructure resources to run websites, applications, and online tools.
Cloud storage, databases, and analytics: it helps businesses manage and analyze large amounts of data and scale their operations as needed.
Hosting solutions: they offer other hosting solutions such as cloud hosting, VPS hosting, and dedicated hosting, giving their users greater control, flexibility, and scalability over their hosting environments.
The main advantage of using Rackspace's services is that they take care of server configuration, security, and maintenance. In other words, all the technical details.
Rackspace has three different subscription plans, which are as follows:
Samepage
Samepage is a program that aims to improve and facilitate collaborative work and increase team productivity by sharing all types of content.
All collaborators in a project can view the details and have a clear definition of the tasks. Changes are recorded in real-time and preserved in the file library, being able to find them easily thanks to search filters.
It has two main tools:
Group chat software: chat to have the text and video conversations with all participants in each project. It allows direct and fast communication lines that bring agility to daily work, avoiding the use of other communication applications.
Task management software: solution for managing projects and tasks. It has boards, sheets, and calendars that facilitate the visualization of the progress of the different activities.
Samepage has three subscription plans, as follows:
Proton Mail
Proton Mail is a private email service that employs end-to-end encryption. It also has an open-source zero-access code subject to external audits to protect user communications.
The security of Proton Mail is its differential point. Your communications will be protected against leaks, breaches, and data theft because not even the provider can access your inbox.
It is available as a web app, Android, and iOS app. You can also integrate your Proton Mail account into your favorite email client while being protected by the encryption system.
It features the following functionalities:
Customizable inbox: you can fully customize the design of your inbox, folder colors, and your favorite themes.
Organization: this allows you to create folders, subfolders, and filters so that your inbox is perfectly organized.
Management: it allows you to create multiple addresses linked to the same account. Send, manage and filter emails from any of them quickly.
Migration: with the Easy Switch tool, you can easily import emails, contacts, and calendars to your new account. In addition, with the advanced local search tool, you can quickly find what you are looking for.
Proton Mail has two subscription plans:
How to work with these tools in Rambox?
Rambox allows you to unify as many applications as you want in the same place, making it the perfect tool to improve productivity when working with multiple applications.
If you want to add any of the mentioned applications to your taskbar to improve your concentration and productivity when working with Rambox, you will only have to follow three simple steps.
1. Click on the + icon in your applications panel.
2. Choose which applications you want to add to Rambox. In the "Categories" tab you will find the Apple, Google, Microsoft, and Zoho options in the dropdown.
3. In each category according to the company, you can find all the available applications.
a) Apple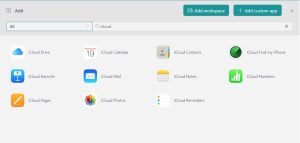 b) Microsoft

c) Zoho
d) Google
4. Choose the application you want to add to your workspace and click on the "+ add" button to add the application to your application panel.
That's it! You can now work with the applications you want, all on the same desktop and in an organized way.
If the number of applications you work with overwhelms you, and you can't optimize your time and resources, try Rambox for free. Just download the program, configure it to your liking and enjoy its features. No cards, no cheating, it's that simple!